The Strathmore Stampede will be held on Friday, July 30st – Monday, August 2rd, 2021 in Strathmore, Alberta. This Strathmore rodeo is held at Strathmore & District Agricultural Society.
2021 Strathmore Stampede

| | |
| --- | --- |
| Venue | Strathmore Rodeo Grounds |
| Starting Date | Friday, July 30, 2021 |
| End Date | Monday, August 2, 2021 |
| Broadcast | Cowboy Channel, Cowboy Channel Plus, FloRodeo |
The Strathmore Stampede will be entering its 54th year. Pro Rodeo, Pro Chuckwagons, and Running with the Bulls are the main events. The grounds are busy with family entertainment, food trucks, a Tradeshow, beer gardens, wine cellar, live entertainment, trick riding and a midway! Come join in the action and take part in the 3rd largest Canadian Stampede.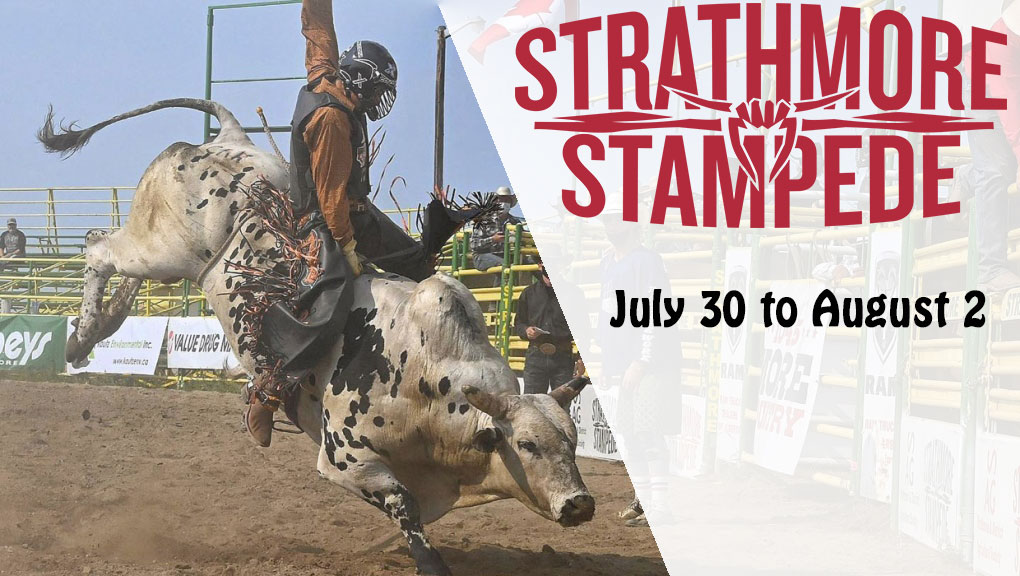 How to watch CPRA at Strathmore Stampede 2021
Here's how to watch the 2021 CPRA at Strathmore Stampede, if you don't have cable or don't have a cable log-in, here are some different ways you can still watch a live stream of Strathmore Stampede.
Beginning December 27, 2017, The Cowboy Channel, the first 24-hour television network totally dedicated to western sports and the western lifestyle, will be available on DIRECTV channel 603. In addition, The Cowboy Channel can also be streamed via Sling TV's Heartland Extra package.
AT&T (Channel 566)
Charter Spectrum
Comcast
Suddenlink
Sling TV's Heartland Package
Verizon FiOS TV
The Cowboy Channel Plus App
To find THE COWBOY CHANNEL are available in your area, please click here and enter your zip code also choose your Pay TV provider.
FloRodeo
You can watch a live stream of Strathmore Stampede and all FloRodeo digital content via the website or FloRodeo apps. FloROdeo is available on your Roku, Roku TV, Amazon Fire TV or Fire Stick, Apple TV, Chromecast, Xbox One or Series X/S, Samsung TV, LG TV, any device with Android TV (such as a Sony TV or Nvidia Shield), airTV Mini, Oculus, Portal, iPhone, Android phone, iPad or Android tablet. Or you can watch on your computer via the FloROdeo website.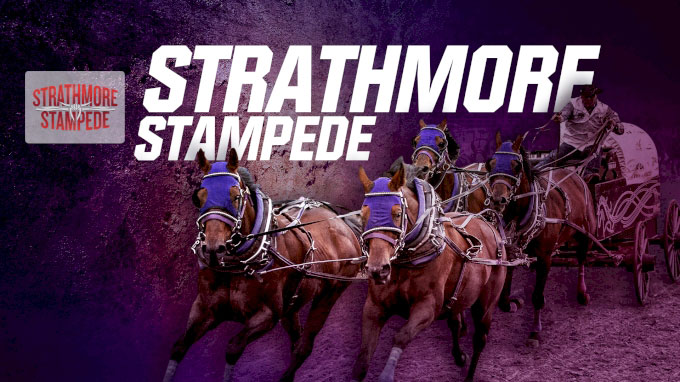 Strathmore Stampede Schedule
Below are the programs for the weekend activities throughout the grounds!
Friday
Agriterra Stadium
Rodeo – 1:00PM
Chuckwagons – 6:00PM
Friday Night Lights – 9:00PM
Feat Gord Bamford & Globalfest Fireworks
Heritage Arena
Running with the Rams – 11:30 AM
General Grounds
Grounds – 11AM to 11PM
Tradshow – 11AM to 9PM
Molson Beer Gardens 11AM to 11PM
Wildrose Midway – 11AM to 11PM
Pendleton 18+ Trackside Bar – 11AM to 11PM
Royal Lepage Mechanical Bull – 2PM to 10PM
Strathmore Gymnastics Zone – 12PM to 8PM
Entertainment
Christopher Cool Magician – 12:00PM
Kids Firm Safety Show – 12:30PM
Extreme Dogs – 1:30PM
Christopher Cool Magician – 2:30PM
Kids Firm Safety Show – 3:00PM
Extreme Dogs – 4:30PM
Christopher Cool Magician – 5:00PM
Kids Firm Safety Show – 5:30PM
Extreme Dogs – 6:15PM
Joel Ostrom & Tin StarBand – 7:45PM
Saturday
Agriterra Stadium
Rodeo – 1:00PM
Running with the Buls – 6:00PM
Chuckwagons – 7:00PM
Heritage Arena
Running with the Rams – 11:30 AM
Drive a Team – 1:00PM
Hearts of the West – 3:00PM
Heavy Horse Pull – 4:00PM
General Grounds
Grounds – 11AM to 11PM
Tradshow – 11AM to 9PM
Molson Beer Gardens 11AM to 11PM
Wildrose Midway – 11AM to 11PM
Pendleton 18+ Trackside Bar – 11AM to 11PM
Royal Lepage Mechanical Bull – 2PM to 10PM
Strathmore Gymnastics Zone – 12PM to 8PM
Cowboy Cabaret – 8PM
Entertainment
Christopher Cool Magician – 12:00PM
Kids Firm Safety Show – 12:30PM
Extreme Dogs – 1:30PM
Christopher Cool Magician – 2:30PM
Kids Firm Safety Show – 3:00PM
Chris Leblanc – 4:00PM
Extreme Dogs – 4:45PM
Kids Firm Safety Show – 5:30PM
Christopher Cool Magician – 6:00PM
Extreme Dogs – 6:25PM
Kevin Knopf – 9:00PM
Sunday
Agriterra Stadium
Rodeo – 1:00PM
Running with the Buls – 6:00PM
Chuckwagons – 7:00PM
Heritage Arena
Running with the Rams – 11:30 AM
Drive a Team – 1:00PM
Hearts of the West – 3:00PM
Heavy Horse Pull – 4:00PM
General Grounds
Grounds – 11AM to 11PM
Tradshow – 11AM to 9PM
Molson Beer Gardens 11AM to 11PM
Wildrose Midway – 11AM to 11PM
Pendleton 18+ Trackside Bar – 11AM to 11PM
Royal Lepage Mechanical Bull – 2PM to 10PM
Strathmore Gymnastics Zone – 12PM to 8PM
Entertainment
Christopher Cool Magician – 12:00PM
Kids Firm Safety Show – 12:30PM
Extreme Dogs – 1:30PM
Christopher Cool Magician – 2:30PM
Kids Firm Safety Show – 3:30PM
Kevin Knopf – 4:00PM
Extreme Dogs – 4:45PM
Joel Ostrom – 5:00PM
Kids Firm Safety Show – 5:30PM
Christopher Cool Magician – 6:00PM
Extreme Dogs – 6:30PM
Chris Leblanc – 9:00PM
Monday
Agriterra Stadium
Chuckwagons – 1:00PM
Rodeo – 3:00PM
Heritage Arena
Drive a Team – 1:00PM
Hearts of the West – 3:00PM
Heavy Horse Pull – 4:00PM
General Grounds
Grounds – 11AM to 11PM
Tradshow – 11AM to 9PM
Molson Beer Gardens 11AM to 11PM
Wildrose Midway – 11AM to 11PM
Pendleton 18+ Trackside Bar – 11AM to 11PM
Royal Lepage Mechanical Bull – 2PM to 10PM
Strathmore Gymnastics Zone – 12PM to 8PM
Entertainment
Christopher Cool Magician – 12:00PM
Kids Firm Safety Show – 12:30PM
Christopher Cool Magician – 2:30PM
Kids Firm Safety Show – 3:00PM
Christopher Cool Magician – 4:30PM
Kids Firm Safety Show – 5:00PM