It's a perfect complement to the NFR activities all week long! If you're looking for the newest, greatest gifts in Cowboy Christmas, then this is the place. Hundreds of vendors with the latest unique gifts for family and friends are on display. And don't miss out on your favorite cowboy stars as they make surprise appearances and sign autographs!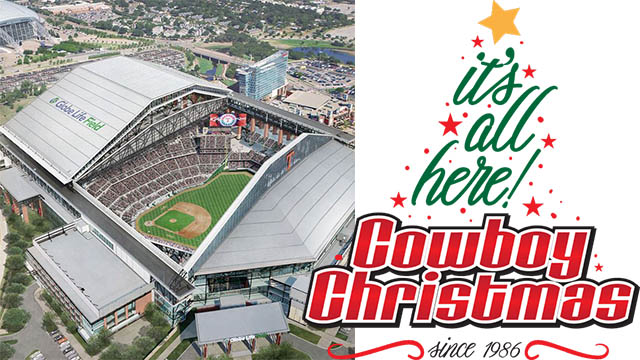 2023 Cowboy Christmas
When: December 7 – 16, 2023
Open: December 7-16; Open Daily 9 a.m. to 4 p.m.
Where: Las Vegas Convention Center, Las Vegas, NV 89109
Recurrence: Recurring daily
Tickets: FREE ADMISSION
The only official gift show of the Wrangler National Finals Rodeo, The Cowboy Channel Cowboy Christmas is a Las Vegas tradition since 1986. The Cowboy Channel Cowboy Christmas features more than 500,000 square feet of show floor and 350+ exhibitors from across the United States. Attendees can find unique products including custom-made jewelry, western wear, boots and spurs, furniture, original art, handmade crafts and home goods. To add to the overall experience, attendees can also enjoy a number of interactive experiences, including the Ariat Rodeo Live Stage and the YETI Junior World Finals.
Ranch Water Rodeo Saloon: Every great "rodeo" needs a saloon. Located near the east end of Cowboy Christmas, the Ranch Water Rodeo Saloon features specialty drinks, souvenir collectible cups and video screens with a replay of the prior night's Wrangler NFR performance. In addition, with its close proximity to the Ariat Rodeo Live Stage, this will be a great place to be close to the action.
Ariat Rodeo Live Stage: The Ariat Rodeo Live Stage has undergone a complete renovation this year. The daily programming kicks off with The RMEF Calcutta. Following will be "Outside the Barrel" hosted by the one and only Flint Rasmussen and Cowboy Revival with host Shane Minor. The Cowboy Channel NFR Tailgate Party will keep things rolling in preparation for each Wrangler NFR performance during their 2+ hour high energy show.
Cowboy Christmas Village sponsored by Clint Orms: This festive area will include Christmas trees, daily appearances by Santa Claus from 11 a.m. – 2 p.m. and an area for kids to write a letter to Santa and drop it in a special mailbox. In addition, there will be photo walls to share your experience with family and friends.
Bites & Brews presented by Total Feeds: This year's Bites & Brews will have all new vendors to satisfy any appetite. Located on the second floor of the Convention Center adjacent to Santa, you are guaranteed to find something delicious while enjoying the live feed from all the action going over at the YETI Junior World Finals.
Wrangler NFR After Dark: NFR After Dark is bigger and better just like the Las Vegas Strip! Come check it out for yourself to see how this interactive space will be able to help you find the top entertainers, restaurants, viewing parties and other NFR Experience activities happening at each of our host hotel properties during all 10 days of the Wrangler NFR.
Wrangler Rodeo Arena: You can watch the future of rodeo compete for the coveted Montana Silversmiths Championship Buckle and $1 million in cash and prizes at the YETI Junior World Finals, taking place inside the Wrangler Rodeo Arena. With general admission and VIP seating for more than 1,000 fans, attendees can cheer on the future of rodeo located on the second floor of the South Hall, right in the middle of the RMEF Hunter & Outdoor Christmas Expo.
Junior World Finals presented by YETI: For the fourth consecutive year, the Junior World Finals presented by YETI (previously known as the Junior NFR) will be held in Las Vegas. There will be qualifiers and finals in nine events, with various age groups per event.
Everything you need to know about Cowboy Christmas in Las Vegas
What to Get A Cowboy (or Cowgirl!) for Christmas
Deerskin Work Gloves
Muck Boots
Cowgirl Swank Custom Caps
Resistol felt hat
A big ol' steel tow chain
Bubba Rope
Carharrt Coat
A good, solid pocket knife
Cowboy Christmas Songs
Geronimo's Cadillac (1972)
Cosmic Cowboy Souvenir (1973)
Michael Murphey (1973)
Blue Sky – Night Thunder (1975)
Swans Against the Sun (1976)
Flowing Free Forever (1976)
Lone Wolf (1978)
Peaks, Valleys, Honky Tonks & Alleys (1979)
Clear bag policy
Fans may bring in one (1) clear bag no larger than 12″ x 6″ x 12″ or a 1-gallon plastic storage bag. Fans are limited to one clear bag per person, along with a small clutch bag (no larger than 4.5″ x 6.5″) for privacy.
Todd and Sheila Thorp of Leawood, Kansas, were taking a break for an adult beverage and a chance to sit down at their first Cowboy Christmas at the Las Vegas Convention Center.
"It's overwhelming," Todd said, echoed by his wife: "You need to be here all 10 days."
Indeed. The 32nd event involves nearly 350 vendors whose wares are spread over 444,000 square feet — about seven and a half football fields — in the LVCC's South Halls. And surprise at the sheer scale was in the air on opening day Thursday, with overheard comments such as:
"This thing goes farther than I can see."

"It's a lot to take in, isn't it?"

And the inevitable: "We haven't gotten very far yet."
Best of all, as the Thorps noted, it's free — although you'll have to pay $10 to park..
In fact, Cowboy Christmas, which runs through Saturday, may be the best entertainment value in town right now, a wild circus of colors and sparkle and sometimes-frenetic activity that draws about 230,000 people who range from babies in strollers to old-timers using canes.
There are plenty of city slickers but also a heck of a lot of cowboys and cowgirls, like the rodeo stars signing autographs, the guy carrying his son's saddle over his shoulder on a strap, and the subject of the overheard, "Every time she barrel races …"
The holidays are very much in evidence in displays, decorations and country singers' carols on the halls' speakers, but this show is really more about cowboys than Christmas. There's plenty to see even if you're not shopping. But if you are, and the item you seek has anything to do with the cowboy lifestyle, it's probably available here. Consider:
Anything conceivable to outfit a horse, including bridles, bits, tools, colorful tailored blankets with matching fly masks, waterers, slow feed hay nets, flexible rein keepers, saddles ranging from relatively plain to those with finely tooled leather or silver trim and crystals, Impact Gel saddle pads, leather straps with bronze bells attached in a wide range of sizes, ornate bell boots for covering horses' hooves, (even glittery strips for those hooves), steel corral components, feed and medical supplies.
Or to outfit a cowboy or cowgirl, such as boots, boots and more boots, in an endless array of colors (purple? teal?) and sizes. Cowboy hats, custom hat-making shops, hat-steaming spots and hat cases for travel. Handbags, including the concealed-carry variety. Jewelry. Clothing ranging from T-shirts to finely tailored leather garments. Oilskin dusters. Scarves. Belts. Holsters. Work gloves. Spurs. Fox tails. Books and other material for the Christian roper and barrel racer. A camo or purple beer belt that can hold a whole six-pack.
Or to outfit a ranch, whether it be a suburban tract home or on a massive spread in Texas: Everything for a cowboy Christmas tree, including ornaments, denim or bandanna-print garland and accents such as a $325 hand-pieced cowhide tree skirt. Tooled leather furniture and accessories including chairs, ottomans, stools, benches, buckets and wall hangings. Nevada wild-horse photography. Western photography, paintings and posters. Bronze statuary including a monumental $65,000 stag. Exercise machines. Pendulum swings with canopies. Barrel smokers. Humidifiers (hey, it's a desert out there). Dishes, silverware, napkin rings, table runners, leather trivets and kitchen tools with handles ornately embossed in the Western style. Rugs of all sizes. Tennessee Moonshine cakes, jams, honey and hot sauce. Large metal ranch signs, and indoor signs that say things like "Live every day like it's Taco Tuesday" or "Shopping with your husband is like hunting with the game warden." Make-your-own bourbon, whiskey, Scotch and rum. Vintage coin-operated horse rides, the kind that used to be outside every grocery store in the country. Roping dummies in action, giving kids an opportunity to try their hand. Even NFR 60th anniversary commemorative firearms.
Maureen Frank of Parker, Colorado, walking around with a regulation NFR jacket, said she's attended the annual event 15 to 20 times, and comes in large part because her favorite jeweler, Ornaments, is an exhibitor.
Veronica Ambriz, who co-owns Ambriz Jewelry in Fredericksburg, Texas, with her husband, Adolfo, has been attending every year since 2000 to offer the couple's silver, leather and wood creations. She said the show is a collection of mini-cultures that often can be identified by what they're wearing. A guy in a Stetson is likely to be from Texas or the Southwest, she said, while Montana cowboys wear round hats. Those from Montana also like to wear silk scarves, she said; "in Texas it's too hot."
"We love the show," said Ambriz, who said the couple does the Texas rodeo circuit as well. "Where else do you see, in one spot, so many cowboys from all over — east to west, all over the United States? Every state has their own little culture, but it's all one big cowboy culture."