Rodeo Austin is back for 2023! It is one of the largest rodeo events in the country, attracting thousands of visitors each year. The event will be held on Saturday, March 11th – Saturday, March 25th in Austin, TX and features a variety of rodeo competitions, live music performances, and carnival rides and games. Here's a simple guide to watch Rodeo Austin 2023 live stream schedule, date, time and more.
Rodeo Austin
Venue

Travis County Expo Center

,

Austin, TX

Date
Mar 11 – 25, 2023
Sanction
PRCA, WPRA
Circuit
Texas (L)
Purse

$377,500

Broadcast
The Cowboy Channel, CowboyChannelPlus
How to watch Rodeo Austin 2023?

The Rodeo Austin will be livestreamed from Mar 11 – 25, 2023 and performances live on The Cowboy Channel and Cowboy Channel +. The Cowboy Channel now available on Dish Network-232, Direct TV-603, Cox-260 anytime, and anywhere.
The Cowboy Channel:
AT&T (Channel 566)
Charter Spectrum
Comcast
Suddenlink
Sling TV's Heartland Package
Verizon FiOS TV
To find out if RFD-TV and THE COWBOY CHANNEL are available in your area, please click here and enter your zip code also choose your Pay TV provider.
Cowboy Channel +
Stream The Cowboy Channel programming live, watch past episodes of your favorite shows, and follow all the latest rodeo action. The Cowboy Channel Plus is available for only $9.99 a month or save up to 25% and purchase the whole year for $89.99. To sign up for the PRCA on The Cowboy Channel Plus app, visit www.cowboychannelplus.com.
Supported Device
Web: Any web-connected desktop, laptop, tablet, or mobile phone using the latest version of Chrome (recommended), Firefox, Safari, Edge, or Internet Explorer.
Mobile App: If you have an iPhone or iPad, search for "Cowboy Channel +" in the App Store.
TV: If you have an Apple TV (4th generation) or Roku, search for "Cowboy Channel +" in the App Store or in the Roku Channel Store.

Credit to CLN Team Member, Megan deFabry
Where is Austin Texas Rodeo held?
The Austin Texas Rodeo, also known as the "Austin Rodeo" or the "Austin Livestock Show and Rodeo returns to the Travis County Expo Center this spring as a full-blown family affair, boasting a thrilling lineup of ProRodeo events, livestock shows, daily concerts, carnival attractions and much more. The must-attend Austin event takes place daily, March 11-25, 2023.
Austin ProRodeos Events
Staying true to the official sport of Texas, Austin hosts one of America's top ProRodeos every March. The top-ranked rodeo athletes in each event compete in Rodeo Austin's unique bracket-style format for the title of Champion. In an action-packed two hours, fans enjoy extreme competition, bull fighting entertainment and the fan-favorite Mutton Bustin'. Every ProRodeo performance features the events listed in the order below.
Bareback Riding
Steer Wrestling
Mutton Bustin'
Team Roping
Breakaway Roping
Saddle Bronc Riding
Tie-Down Roping
Barrel Racing
Bull Riding
Bullfighters
Barrel Man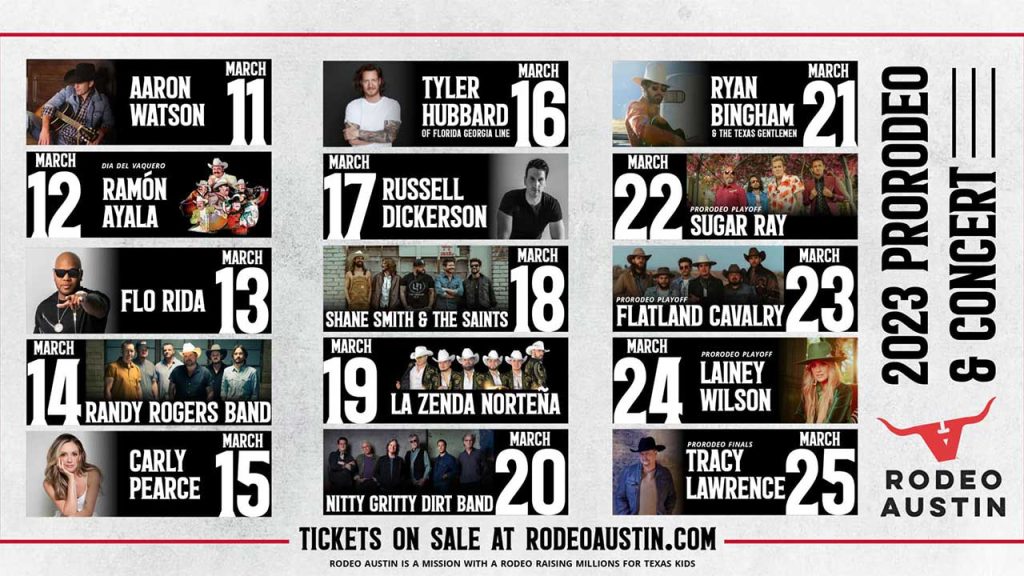 Austin Texas Rodeo 2023 concert lineup
Check out the full main stage lineup below:
Aaron Watson – March 11
Ramón Ayala – March 12
Flo Rida – March 13
Randy Rogers Band – March 14
Carly Pearce – March 15
Tyler Hubbard of Florida Georgia Line – March 16
Russell Dickerson – March 17
Shane Smith & the Saints – March 18
La Zenda Norteña – March 19
Nitty Gritty Dirt Band – March 20
Ryan Bingham & the Texas Gentlemen – March 21
TBA – March 22
Flatland Cavalry – March 23
Lainey Wilson – March 24
Tracy Lawrence – March 25
Carnival
The fairgrounds open at 10 a.m. daily and offer hours of entertainment with carnival games and rides, shopping, food, shows and educational activities. Visit Kidztown for a petting zoo and other fun activities. Be sure to make time for additional special events that include a Cowboy Breakfast, BBQ Auction and Dance, and a Fashion and Fine Art Show.
How much does it cost to go to the Austin Rodeo?
Each ticket category has many options. Generally, ProRodeo & Concert tickets range from $30-$55, Fairgrounds tickets range from $5-$10, Carnival Wristbands range from $20-$40 and parking is $15. Children 2 and under are free for ProRodeo & Concert and/or Fairgrounds admission.