The Red Bluff Round-Up is an annual rodeo event held in Red Bluff, California.  It is one of the largest and most prestigious rodeos in the United States and attracts top rodeo competitors from all over the world. Here is a simple guide to the Red Bluff Round-Up 2023 including where to watch, date, time, live stream and more.
What: 2023 Red Bluff Round-Up
When: April 21st – 23rd, 2023
Where: Frank Moore Arena, Red Bluff, CA
The event features various rodeo events, including bareback riding, saddle bronc riding, bull riding, tie-down roping, team roping, steer wrestling, barrel racing.
Red Bluff Round-Up schedule
The Red Bluff Round-Up is the largest 3 day rodeo in the country with over 750 contestants that compete for over $375,000 in prize money. With over 101 years of tradition and a little bit of something for everyone, its an event you don't want to miss.
Friday Night is Family Night
1st performance
Gates Open at 5:00 pm
Rodeo Action 7:00 pm
Saturday Afternoon
2nd Performance
Gates Open at 12:00 pm
Rodeo Action 2:30 pm
Sunday Afternoon
3rd Performance
Tough Enough To Wear Pink
Gates Open at 11:30 am
Rodeo Action starts 1:30 pm
Red Bluff Round-Up music
The organizers of the Red Bluff Round-Up are excited to announce the headliner for the 2023 Saturday Night Concert. Attendees will have the chance to enjoy the talented country singer and songwriter, Jackson Dean, perform live in the Pauline Davis Pavilion following an exciting day of rodeo action. Gates will open at 6:00 p.m. and the concert is scheduled to start at 7:30 p.m.
Jackson Dean's debut single "Don't Come Lookin" made a significant impact, becoming the highest charting debut country single since 2015. The song has continued to gain momentum and is currently climbing the charts, thanks in part to being featured on popular shows such as Netflix's "The Ice Road" and Paramount Network's hit series "Yellowstone." Dean has shared the stage with big-name acts such as Toby Keith, Miranda Lambert, and Brothers Osborne.
Dean's 2022 schedule includes a spot on Hardy's Wall to Wall Tour, and he will hit the road again in 2023 to join Blake Shelton and Carly Pearce for the Back to the Honky Tonk Tour. The Red Bluff Round-Up promises to be a memorable event, combining top-notch rodeo action with a captivating concert by the rising star, Jackson Dean.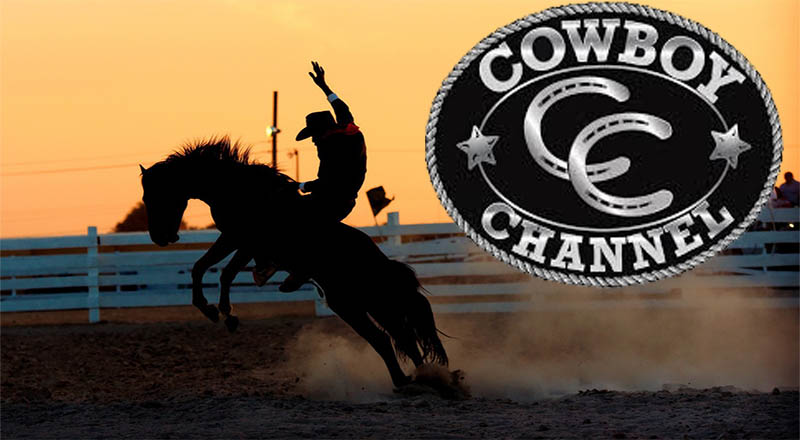 What Channel will the Red Bluff Round-Up be on?
The Red Bluff Round-Up main performances will air live on the The Cowboy Channel, Cowboy Channel + from April 21th – 23rd, 2023.
How to watch Red Bluff Round-Up?
Western Lifestyle Network is pleased to share with an individual the latest and finest in rodeo news in addition to events, up next will be the highly-anticipated Red Bluff Round-Up 2023! The HDS will be televised April 21th – 23rd, 2023 and performances live on The Cowboy Channel and Cowboy Channel +. The Cowboy Channel now available on Dish Network-232, Direct TV-603, Cox-260 anytime, and anywhere.
The Cowboys Channel
The Cowboy Channel is a television network that primarily features programming related to the Western lifestyle, including rodeo, bull riding, and country music. Here are a few ways to watch The Cowboy Channel:
Cable or Satellite TV: The Cowboy Channel is available on many cable and satellite TV providers in the United States, including DIRECTV, DISH Network, and many others. Check with your cable or satellite provider to see if The Cowboy Channel is available in your area.
Streaming Services: The Cowboy Channel is available on several streaming services, including Sling TV and Philo. You can sign up for a subscription to one of these services to access The Cowboy Channel and other channels.
The Cowboy Channel App: The Cowboy Channel also has a mobile app that allows you to watch live programming and on-demand content on your phone or tablet. The app is available for iOS and Android devices and can be downloaded from the App Store or Google Play Store.
Keep in mind that some of these options may require a subscription or additional fees, so be sure to check the details before signing up or downloading an app.
The Red Bluff Round-Up has a rich history and tradition, dating back to 1921, and is an important cultural and social event in the community. It is known for its festive atmosphere, exciting competitions, and top-notch performances, and is a must-see event for rodeo enthusiasts and fans of Western culture.
Related: Clark County Fair & Rodeo 2023 where to watch, date & time, livestream
Important links: