NWSS and Rodeo is back for 2023! Starting from 1906, this part-rodeo, part-livestock show and part-fair brings hundreds of thousands of people to the National Western Complex each year for a celebration of our state's agricultural heritage.
The 16-day event Jan. 7 through Jan. 22 at the National Western Complex typically attracts hundreds of thousands of visitors and includes rodeos, horse shows, mutton bustin' and many other things to do.
2023 National Western Stock Show & Rodeo

| | |
| --- | --- |
| Venue | National Western Complex, Humboldt St, Denver, CO |
| Date | Jan 7 – 22, 2023 |
| Sanction | PRCA |
| Broadcast | The Cowboy Channel, CowboyChannelPlus |
The Stock Show, now in its 116th year, is a nationally recognized Western heritage and entertainment event with one of the world's richest regular season professional rodeos, one of the country's largest horse shows and Colorado's largest agricultural trade show. Here's how to watch the National Western Stock Show & Rodeo 2023 anywhere in the world.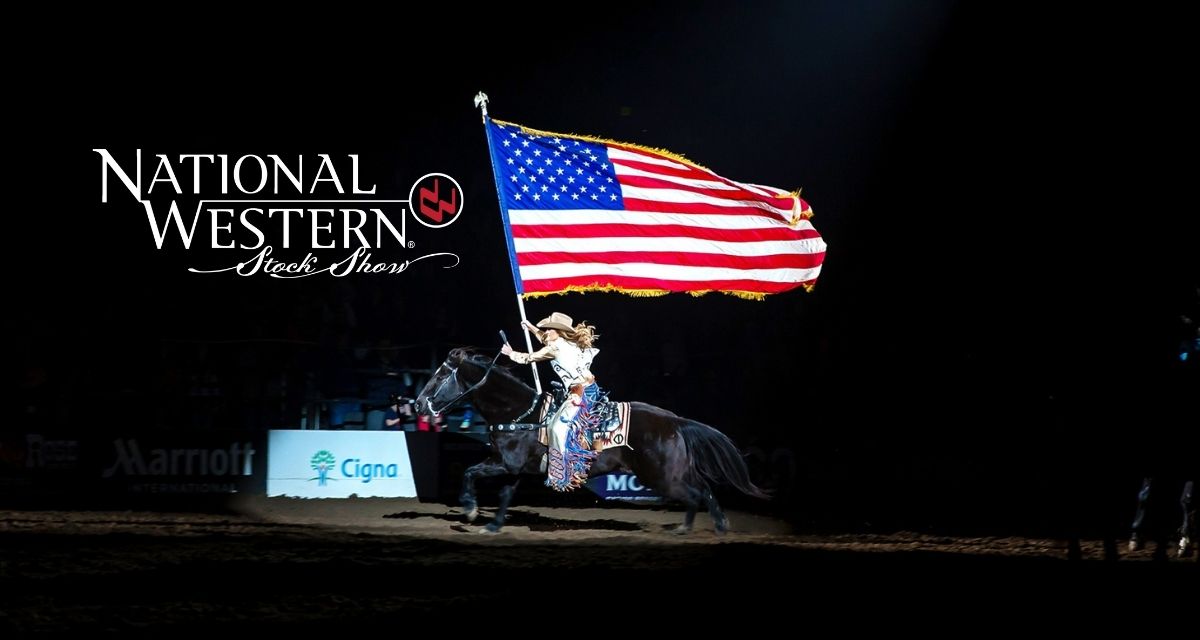 When is the
Denver

NWSS and Rodeo 2023?

The rodeo is held annually in January and bring fans and athletes from around the world to Denver. After it was canceled last year due to the COVID-19 pandemic, The National Western Stock Show and Rodeo will be held on Saturday, January 7th – Sunday, January 22rd, 2023.
Where is the NWSS and Rodeo 2023 held?
The National Western Stock Show and Rodeo is held in Denver, Colorado at the National Western Complex. After the COVID-19 pandemic shuttered last year event for the first time in its history, the NWSS will return for 2023.
Denver

NWSS and Rodeo 2023 Schedule of Events

Held every January at the National Western Complex , it's the nation's premier livestock, rodeo, and horse show, serving agricultural producers and consumers throughout the world. Enjoy rodeos featuring top-notch bull riders, horse shows, livestock competitions and auctions. And don't miss acres of shopping at Colorado's largest Western trade show. The full schedule events can be found here.
What TV Channel will the

Denver

NWSS and Rodeo 2023 be on?
The Cowboy Channel is the official media partner for the PRCA. Because this is an exclusive deal between the network and the PRCA, the National Western Stock Show & Rodeo will not be shown on any other TV network during the 16-day period.
How to watch NWSS and Rodeo online?
Here's how to watch the 2023 National Western Stock Show & Rodeo, if you don't have cable or don't have a cable log-in, here are some different ways you can still watch a live stream of NWSS.
The Cowboys Channel
The ultimate annual rodeo event will now be seen by millions of people live simultaneously on two national TV networks. Also included in the deal is a wide variety of other PRCA programming, including expanded live coverage of the PRORODEO TOUR and the PRCA's Xtreme Bulls Tour events which will result in a huge increase in the amount, availability and quality of PRCA PRORODEO coverage on The Cowboy Channel here. The Cowboy Channel now available on Dish Network-232, Direct TV-603, Cox-260 anytime, and anywhere. You can enjoy Rural Media on these platforms:
AT&T (Channel 568 & 1568)
Charter Spectrum
Comcast
Cox
DIRECTV (Channel 345)
DIRECTV NOW
DISH (Channel 231)
Mediacom
Sling TV's Heartland Package
Suddenlink
To find out if RFD-TV and The Cowboy Channel are available in your area, please click here and enter your zip code also choose your Pay TV provider.
NWSS and Rodeo on The Cowboy Channel+ App
The PRCA on The Cowboy Channel+ App will keep fans up-to-date with their favorite PRCA rodeos and athletes, as well as provide behind-the-scenes access to NWSS and Rodeo 2023 livestreamed and on demand PRCA rodeo events from around the country. The content can be accessed via the mobile app (available on Android and iOS), as well as any browser, smart TV or device. Viewers will be able to enjoy free access to up-to-the-minute news, bios, rodeos and highlights. Those with a subscription will unlock premium content such as up to six simultaneous live rodeo feeds, classic PRCA archived rodeos, The Cowboy Channel video-on-demand programming, and the only place viewers can stream the National Western Stock Show and Rodeo. The Cowboy Channel+ is available for only $9.99 a month or save up to 25% and purchase the whole year for $89.99. To sign up for the PRCA on The Cowboy Channel+ App, visit www.cowboychannelplus.com.
Sling TV
Sling TV includes Cowboy Channel as part of their Sling Orange Heartland Extra package for $41 a month.
Sling TV has 30 channels as part of their plan, including A&E, AMC, BET, Bravo, Cartoon Network, CNN, Comedy Central, Discovery, Disney Channel, E!, ESPN, Food Network, Fox News, Freeform, FX, HGTV, History, Investigation Discovery, Lifetime, MSNBC, Syfy, TBS, TLC, TNT, Travel Channel, truTV, and USA Network.
This is the full Sling TV Channel List.
Every Sling TV subscriber can record to their 10 hours Cloud DVR, while 3 users can stream at the same time.
Supported platforms
Sling TV supports a wide-range of devices to stream including Amazon Fire TV, Apple TV, Google Chromecast, Roku, iPhone/iPad, Web Browsers, Android Phone/Tablet, Android TV, Xbox, Samsung Smart TV, LG Smart TV, and VIZIO Smart TV. Sling TV is not available to stream on PlayStation and Nintendo.
Stock Show tickets
A grounds admission ticket gives you access to everything at the Stock Show except for rodeos and other special events, which require a separate ticket.
Grounds admission includes access to the Yards, the Coors Western Art gallery, hundreds of Western vendors selling wares and food, and events like horse shows, stock dog competitions and mutton bustin'.
The cost of the tickets depends on the day of the week:
$17-$25 for adults 12+
$4-5 for children 3-11
Free for children 2 and under
A guest badge that's good for grounds admission for all 16 days costs $70.
There will be one free day for ground admissions on Jan. 11.
Tickets are available to buy online or in-person.
Special events that require separate tickets are:
Colorado vs. the World Rodeo – Saturday, Jan. 8
Invitational Ranch Rodeo – Saturday, Jan. 8
Mexican Rodeo Extravaganza – Sunday, Jan. 9
Freestyle Reining – Sunday, Jan. 9
Bull Riding – Monday, Jan. 10; Tuesday, Jan. 11, and Wednesday, Jan. 12
Pro Rodeos – Thursday, Jan. 13; Friday, Jan. 14; Saturday, Jan. 15; Sunday, Jan. 16; Monday, Jan. 17; Tuesday, Jan. 18; Wednesday, Jan. 19; Thursday, Jan. 20; Friday, Jan. 21; Saturday, Jan. 22, and Sunday, Jan. 23
Gambler's Choice Jumper Stake – Friday, Jan. 14
Wild West Shows – Saturday, Jan. 15, and Sunday, Jan. 16
Xtreme Dogs Shows – Monday, Jan. 17, and Tuesday, Jan. 18
MLK Jr. African-American Heritage Rodeo – Monday, Jan. 17
Grand Prix – Monday, Jan. 17
Evening of Dancing Horses – Wednesday, Jan. 19, and Thursday, Jan. 20
Draft Horse, Mule & Donkey Shows – Friday, Jan. 21, and Saturday, Jan. 22
For more information visit: http://www.nationalwestern.com/