Homestead Rodeo is back for 2023! The 74th Annual Homestead Championship Rodeo will be held on Friday, January 27th – Sunday, January 29th, 2023 in Homestead, FL. This Homestead Rodeo is held at Doc Demilly Rodeo Arena. Here is your guide to all of the 2023 events at the southernmost rodeo in the continental US.
Homestead Championship Rodeo

| | |
| --- | --- |
| Venue | Doc Demilly Rodeo Arena, Homestead, FL |
| Date | Jan 27 – 29, 2023 |
| Sanction | PRCA, WPRA |
| Purse | $34,500 |
| Broadcast | The Cowboy Channel, CowboyChannelPlus |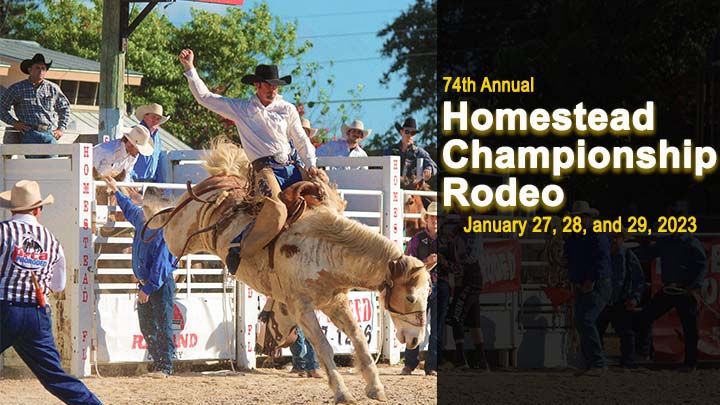 Main Events
Bareback Riding (Sponsored by Tonkinson Financial)
Saddle Bronc Riding (Sponsored by Ryan Inc. Southern)
Bull Riding (Sponsored by Pesky Critters Wildlife Removal)
Tie-down Roping (Sponsored by #1 Best Toilets)
Team Roping (Sponsored by Tony Rodriguez – Century 21)
Steer Wrestling (Sponsored by Hoss Hernandez, P.A.)
Barrel Racing (Sponsored by First United Methodist Christian School)
All Around Champion (Sponsored by Homestead Hospital)
Specialty Act "John Harrison" (Sponsored by Downrite Engineering)
Specialty Act "Homestead Everglades Posse" (Mounted Drill Team)
Homestead Rodeo 2023 Performance Schedule
The Homestead Rodeo honor its 73rd year in 2023. It's one of the oldest annual rodeos in the circuit of the PRCA and thus draws cowboys from around the country who want to earn points toward the December national finals.
1st Performance "Tough Enough to Wear Pink"
Friday, January 27th, 2023
Gates open at 6:00pm
Performance begins at 8:00pm
2nd Performance "Dedication Day"

Saturday, January 28th, 2023
Gates open at 12:00pm
Performance begins at 2:00pm
Final Performance "Wrangler National Patriot Day"

Sunday, January 29th, 2023
Gates open at 12:00pm
Performance begins at 2:00pm
What TV Channel will the Homestead Rodeo 2023 be on?
The Cowboy Channel is the official media partner for the PRCA. Because this is an exclusive deal between the network and the PRCA, the Homestead Championship Rodeo will not be shown on any other TV network during the "This Thing is Legendary" period.
How to watch Homestead Championship Rodeo online?
Here's how to watch the 2023 Homestead Championship Rodeo, if you don't have cable or don't have a cable log-in, here are some different ways you can still watch a live stream of Homestead Rodeo.
The Cowboys Channel
The ultimate annual rodeo event will now be seen by millions of people live simultaneously on two national TV networks. Also included in the deal is a wide variety of other PRCA programming, including expanded live coverage of the PRORODEO TOUR and the PRCA's Xtreme Bulls Tour events which will result in a huge increase in the amount, availability and quality of PRCA PRORODEO coverage on The Cowboy Channel here. The Cowboy Channel now available on Dish Network-232, Direct TV-603, Cox-260 anytime, and anywhere. You can enjoy Rural Media on these platforms:
AT&T (Channel 568 & 1568)
Charter Spectrum
Comcast
Cox
DIRECTV (Channel 345)
DIRECTV NOW
DISH (Channel 231)
Mediacom
Sling TV's Heartland Package
Suddenlink
To find out if RFD-TV and The Cowboy Channel are available in your area, please click here and enter your zip code also choose your Pay TV provider.
Homestead Championship Rodeo on The Cowboy Channel+ App
The PRCA on The Cowboy Channel+ App will keep fans up-to-date with their favorite PRCA rodeos and athletes, as well as provide behind-the-scenes access to Homestead Championship Rodeo 2023 livestreamed and on demand PRCA rodeo events from around the country. The content can be accessed via the mobile app (available on Android and iOS), as well as any browser, smart TV or device. Viewers will be able to enjoy free access to up-to-the-minute news, bios, rodeos and highlights. Those with a subscription will unlock premium content such as up to six simultaneous live rodeo feeds, classic PRCA archived rodeos, The Cowboy Channel video-on-demand programming, and the only place viewers can stream the National Western Stock Show and Rodeo. The Cowboy Channel+ is available for only $9.99 a month or save up to 25% and purchase the whole year for $89.99. To sign up for the PRCA on The Cowboy Channel+ App, visit www.cowboychannelplus.com.
Sling TV
Sling TV includes Cowboy Channel as part of their Sling Orange Heartland Extra package for $41 a month.
Sling TV has 30 channels as part of their plan, including A&E, AMC, BET, Bravo, Cartoon Network, CNN, Comedy Central, Discovery, Disney Channel, E!, ESPN, Food Network, Fox News, Freeform, FX, HGTV, History, Investigation Discovery, Lifetime, MSNBC, Syfy, TBS, TLC, TNT, Travel Channel, truTV, and USA Network.
This is the full Sling TV Channel List.
Every Sling TV subscriber can record to their 10 hours Cloud DVR, while 3 users can stream at the same time.
Supported platforms
Sling TV supports a wide-range of devices to stream including Amazon Fire TV, Apple TV, Google Chromecast, Roku, iPhone/iPad, Web Browsers, Android Phone/Tablet, Android TV, Xbox, Samsung Smart TV, LG Smart TV, and VIZIO Smart TV. Sling TV is not available to stream on PlayStation and Nintendo.
For purchase tickets or more information visit: https://www.homesteadrodeo.com/