The annual Farm City Pro Rodeo will be held on Wednesday, August 9th – Saturday, August 12th, 2023 in Hermiston, Oregon. Farm-City Pro Rodeo is an unmissable rodeo event that encompasses everything you know and love about the sport. This Hermiston rodeo is held at Farm-City Arena and hosted by Columbia River Circuit. Here is everything you need to know 2023 Farm City Pro Rodeo including live stream, start time, schedule and more.
2023 Farm City Pro Rodeo

| | |
| --- | --- |
| Venue | Farm-City Arena, Hermiston, Oregon |
| Starting Date | Wednesday, Aug. 9, 2023 |
| End Date | Saturday, Aug. 12, 2023 |
| Time | 7:45 PM ET |
| Broadcast | The Cowboy Channel, CowboyChannelPlus |
There will be 4 action-packed performances where timed event contestants compete on 2 head of livestock. The 1st run will take place in slack in the afternoon, and the second run will be during that night's performance.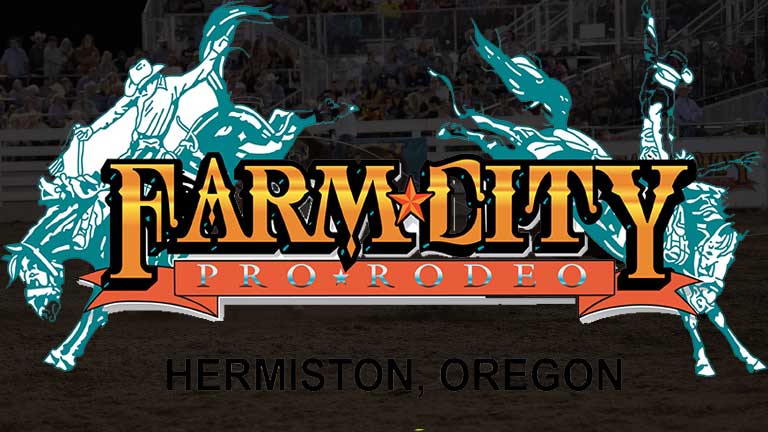 Rodeo Events
Bareback Riding
Barrel Racing
Mutton Bustin
Bull Riding
Saddle Bronc Riding
Steer Wrestling
Team Roping
Tie-Down Roping
Over 4 days in summer, spectators are treated to specialty-act performances, bullfighters, rodeo clowns, and professional rodeo performers. There are also nights of music and dancing at Chute Eight when the rodeo ends. In some years, the Umatilla County Fair runs in conjunction with Farm-City Pro Rodeo, which means you get double the bang for your buck.
How to watch
For fans who are unable to attend the Farm City Pro Rodeo in August, the 4 days performances will be live streamed on the Cowboy Channel + (www.cowboyschannelplus.com). Cowboy Channel + content is available to stream in HD through Cowboy Channel + app on your favorite connected devices.
Starting on December 27, 2017, The Cowboy Channel, the first 24-hour television network totally dedicated to western sports and the western lifestyle, will be available on DIRECTV channel 603. In addition, The Cowboy Channel can also be streamed via Sling TV's Heartland Extra package.
AT&T (Channel 566)
Charter Spectrum
Comcast
Suddenlink
Sling TV's Heartland Package
Verizon FiOS TV
The Cowboy Channel Plus App
To find THE COWBOY CHANNEL are available in your area, please click here and enter your zip code also choose your Pay TV provider.
CowboyChannelPlus app
Stream The Cowboy Channel programming live, watch past episodes of your favorite shows, and follow all the latest rodeo action. The Cowboy Channel Plus is available for only $9.99 a month or save up to 25% and purchase the whole year for $89.99. To sign up for the PRCA on The Cowboy Channel Plus app, visit: www.cowboychannelplus.com.
Supported Device
Web: Any web-connected desktop, laptop, tablet, or mobile phone using the latest version of Chrome (recommended), Firefox, Safari, Edge, or Internet Explorer.
Mobile App: If you have an iPhone or iPad, search for "CowboyChannelPlus" in the App Store.
TV: If you have an Apple TV (4th generation) or Roku, search for "CowboyChannelPlus" in the App Store or in the Roku Channel Store.
Prize Money
The Farm-City Pro Rodeo brings a purse of $17,500 per event plus entry fees for Bareback Riding, Tie-Down Roping, Steer Wrestling, Saddle Bronc Riding, Barrel Racing, and Bull Riding. Because there are two contestants involved in the Team Roping event, FCPR adds $35,000 plus entry fees. The FCPR ranks among the top 50 professional rodeos in North America based on total prize money. The total entries in each event determine how many places or "monies paid" in each event.
Wrangler Tour
​There are two levels of competition in the revised format being used this year with nine of the 25 participating rodeos designated as Gold rodeos – those with a committee purse of at least $20,000 in each event – and the remainder being designated Silver rodeos, with a committee purse of at least $10,000 in each event.
The Wrangler Million Dollar Tour will culminate with an elimination-style playoff system that will play out at two elite PRCA events, in Puyallup, WA and Omaha, NB.
Total prize money for the regular season and playoffs is projected to exceed $6 million.
For additional information visit: farmcityprorodeo.com. For the latest Rodeo sports news visit: nfrupdates.com