The Deadwood's 99th annual Days of '76 Rodeo 2021 is back in action! Truly the "Best Rodeo. No Bull". The Days of '76 Rodeo has been PRCA Rodeo of the Year 19 times! The 2021 Days of '76 is Tuesday, July 27th thru Saturday the 31st, 2021. PRCA Rodeo Performances are Wednesday, Thursday, Friday, and Saturday nights at 7:00 p.m. and Saturday afternoon at 1:30 p.m. Parade is Friday at 1:30 p.m. and Saturday at 10:00 a.m. on Historic Deadwood's Main Street.
2021 Deadwood's Days of '76 Rodeo

| | |
| --- | --- |
| Venue | Days of 76 Event Complex, Deadwood, SD |
| Starting Date | Tuesday, July 27 |
| End Date | Saturday, July 31 |
| Broadcast | The Cowboy Channel, CowboyChannelPlus |
The coronavirus pandemic put a halt to many events earlier in the year — but for organizers and cowboys alike, they say that getting back into action during one of the most historic rodeos in the country is a blessing. Enjoy Native American dance and performances at the Paha Sapa Cowboys & Indians Art Festival at Outlaw Square on July 29, 30 & 31 from 10am – 6pm each day! This is truly one of the best outdoor rodeos in the country. Make plans to attend today! If you aren't attend rodeo days, don't worry i will discuss everything to know about Days of '76 Rodeo. Here's how to watch the Deadwood's Days of '76 Rodeo 2021 online anywhere on any device.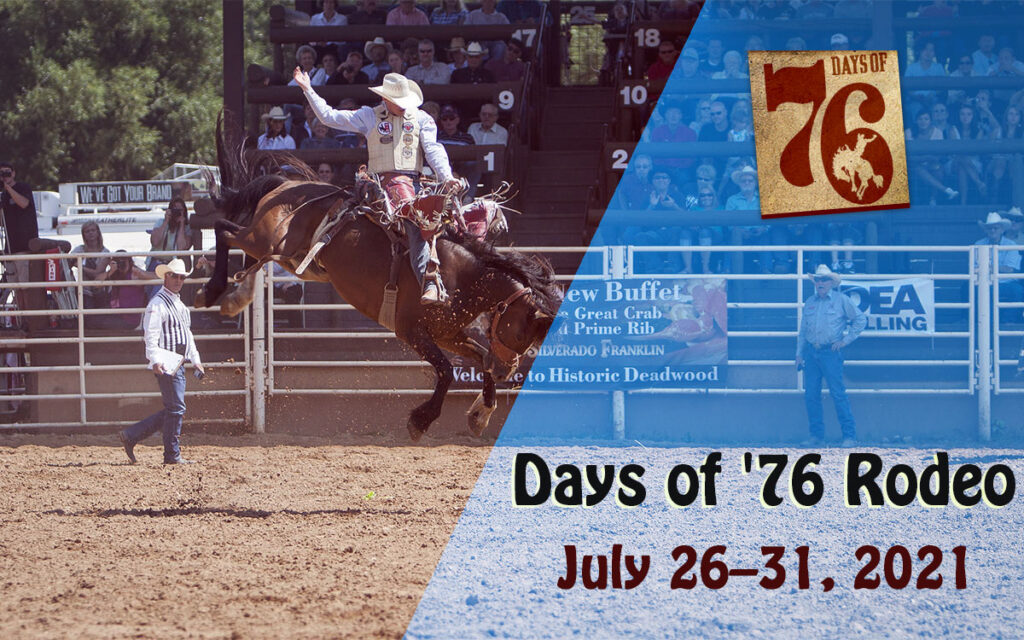 How to watch Deadwood's Days of '76 Rodeo

For fans who are unable to attend the Deadwood's in July, the 5 days performances will be live streamed on the Cowboy Channel + (www.cowboyschannelplus.com). Cowboy Channel + content is available to stream in HD through Cowboy Channel + app on your favorite connected devices.
Beginning December 27, 2017, The Cowboy Channel, the first 24-hour television network totally dedicated to western sports and the western lifestyle, will be available on DIRECTV channel 603. In addition, The Cowboy Channel can also be streamed via Sling TV's Heartland Extra package.
AT&T (Channel 566)
Charter Spectrum
Comcast
Suddenlink
Sling TV's Heartland Package
Verizon FiOS TV
The Cowboy Channel Plus App
To find THE COWBOY CHANNEL are available in your area, please click here and enter your zip code also choose your Pay TV provider.
The Wrangler Network offers live coverage of rodeos from across the United States along with highlights and statistics from bull-riding competitions and other events. All viewers outside of Canada will find live daily coverage on WranglerNetwork.
This year's broadcast schedule includes exclusive daily television coverage on CBC TV Sportsnet and Sportsnet ONE. Livestream broadcast is available at CBCSports.ca
Dish Welcome Pack (Approximately $19.99/month). This is the most basic TV pack Dish offers. The monthly fee you see is an everyday rate, so there's no need to worry about future price hikes, as is common with DirecTV or Xfinity. As for channel variety, the Dish Welcome Pack provides 40+ channels. If you are a subscriber of Dish Network, just tune into The Cowboy Channel 232 (HD).
Now that AT&T TV Now is the name for DirecTV Now, you are free to be confused. Senior Discounts Members receive up to 55% off DirecTV Programming packages as well as other specials and offers like discounts on the NFL package. Allows for the viewing of over 65 live channels at $40/month. In order to take advantage of the free possibilities, one would have to sign up and receive the free 7-day trial. If timed properly, one could watch the Nebraska's Big Rodeo 2021 live action during the free trial period and cancel free of charge prior to the trial's expiration. Just tune into The Cowboy Channel 603 (HD).
Cox offers a senior citizen discount of 30 percent off basic cable services. Customers who are 60 or older and earn less than $24,000 can apply at their local Council on Aging. The Cowboy Channel is now distributed by all major MSOs including DISH channel 232, AT&T U-Verse channel 566, Suddenlink channel 365, Verizon FIOS channel 246, Charter Spectrum, Cox, Comcast, Mediacom, and many other rural cable systems. Just tune into The Cowboy Channel 260 (HD).
RFD-TV Now delivers both real-time LIVE programming including NFR as well as an expansive on-demand library with access to more than 90 shows such as Hee Haw, Opry Encore, The Best of the Marty Stuart Show, Ag PHD, and FarmHer, as well as daily broadcasts of Market Day Report and Rural Evening News.
Days of '76 Rodeo Schedule and Results
Schedule and Results

| | | | |
| --- | --- | --- | --- |
| Date | Time | Scheduled Events | Results |
| Monday July 26, 2021 | 11:00 AM | WPRA Barrel Racing Slack | |
| Tuesday July 27, 2021 | 9:00 AM | PRCA Steer Roping | |
| Wednesday July 28, 2021 | 8:00 AM | Timed Events Rodeo Slack | |
| Wednesday July 28, 2021 | 7:00 PM | PRCA Rodeo – Military Appreciation Night | |
| Thursday July 29, 2021 | 8:00 AM | Timed Events Rodeo Slack | |
| Thursday July 29, 2021 | 7:00 PM | PRCA Rodeo | |
| Friday July 30, 2021 | 1:30 PM | Historic Parade | |
| Friday July 30, 2021 | 7:00 PM | PRCA Rodeo – Tough Enough to Wear Pink | |
| Saturday July 31, 2021 | 10:00 AM | Days of 76 Parade – Saturday | |
| Saturday July 31, 2021 | 1:30 PM | PRCA Rodeo – Day Performance | |
| Saturday July 31, 2021 | 7:00 PM | PRCA – Final Performance | |