Big Sky Skijoring is back for 2023! The Annual "Best in the West Showdown" will be held on Saturday, February 4th – Sunday, February 5th, 2023 in Big Sky. The 5th Annual Best In The West Skijoring Competition is an explosive combination of lightning fast horses and daredevil-skiing taken right to the edge. All held together by rope, guts and grit, and showcased in the town center of beautiful Big Sky, Montana.
Big Sky Skijoring 2023

| | |
| --- | --- |
| Venue | Town Center Ave in Big Sky, Montana |
| Date | Feb 4 – 5, 2023 |
| Broadcast | The Cowboy Channel, CowboyChannelPlus |
2023 Best in the West Showdown Schedule
Featuring several local legends and many of the best skijoring teams in North America. Come watch as teams of horse, rider and skier negotiate a 900+ foot course through jumps and gates on a technically designed course while the crowd goes wild. Don't miss out on seeing this rapidly growing sport showcasing the best competitors in the country in beautiful Big Sky, MT!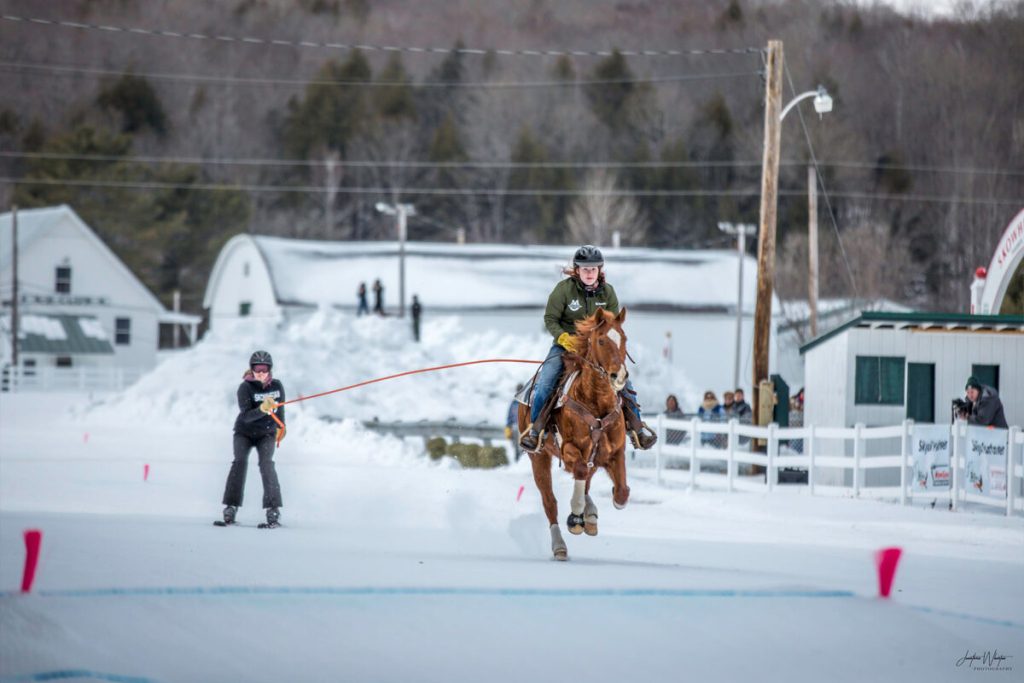 FRIDAY, FEBRUARY 3RD
Competitor Registration/Check-in at The Independent MT | 5-9pm
Free Live Music by Matt Miller at The Independent | 7:30-10pm (with intermission)
SATURDAY, FEBRUARY 4TH
Opening Ceremonies | 11am
Live Racing 11-4pm
National Anthem by Amanda Stewart
KSFMX Freestyle Snowmobile Expo
Welcome Parade through Big Sky Town Center to Fire Pit Park | 4-5pm
Live Calcutta Auction at The Independent MT | 5-7pm
Free Live Music by Amanda Stewart at The Independent | 8-11pm
SUNDAY, FEBRUARY 5TH
Start Time | 11am
Live Racing 11-4pm
KSFMX Freestyle Snowmobile Expo
Awards Ceremony at The Independent MT | 4p
What TV Channel will the Big Sky Skijoring be on?
The Cowboy Channel is mainly carries Western and rodeo sports. So this biggest event will also be broadcast on  TCC network, Because this is an exclusive deal between the network and the Big Sky Skijoring Association, the Best in the West Showdown will not be shown on any other TV network during the 2days period.
How to watch Best in the West Showdown online?
Here's how to watch the 2023 Big Sky Skijoring, if you don't have cable or don't have a cable log-in, here are some different ways you can still watch a Best in the West Showdown live stream.
The Cowboys Channel
The ultimate annual rodeo event will now be seen by millions of people live simultaneously on two national TV networks. Also included in the deal is a wide variety of other PRCA programming, including expanded live coverage of the PRORODEO TOUR and the PRCA's Xtreme Bulls Tour events which will result in a huge increase in the amount, availability and quality of PRCA PRORODEO coverage on The Cowboy Channel here. The Cowboy Channel now available on Dish Network-232, Direct TV-603, Cox-260 anytime, and anywhere. You can enjoy Rural Media on these platforms:
AT&T (Channel 568 & 1568)
Charter Spectrum
Comcast
Cox
DIRECTV (Channel 345)
DIRECTV NOW
DISH (Channel 231)
Mediacom
Sling TV's Heartland Package
Suddenlink
To find out if RFD-TV and The Cowboy Channel are available in your area, please click here and enter your zip code also choose your Pay TV provider.
Big Sky Skijoring on The Cowboy Channel+ App
The PRCA on The Cowboy Channel+ App will keep fans up-to-date with their favorite PRCA rodeos and athletes, as well as provide behind-the-scenes access to Best in the West Showdown 2023 livestreamed and on demand PRCA rodeo events from around the country. The content can be accessed via the mobile app (available on Android and iOS), as well as any browser, smart TV or device. Viewers will be able to enjoy free access to up-to-the-minute news, bios, rodeos and highlights. Those with a subscription will unlock premium content such as up to six simultaneous live rodeo feeds, classic PRCA archived rodeos, The Cowboy Channel video-on-demand programming, and the only place viewers can stream the National Western Stock Show and Rodeo. The Cowboy Channel+ is available for only $9.99 a month or save up to 25% and purchase the whole year for $89.99. To sign up for the PRCA on The Cowboy Channel+ App, visit www.cowboychannelplus.com.
Sling TV
Sling TV includes Cowboy Channel as part of their Sling Orange Heartland Extra package for $41 a month.
Sling TV has 30 channels as part of their plan, including A&E, AMC, BET, Bravo, Cartoon Network, CNN, Comedy Central, Discovery, Disney Channel, E!, ESPN, Food Network, Fox News, Freeform, FX, HGTV, History, Investigation Discovery, Lifetime, MSNBC, Syfy, TBS, TLC, TNT, Travel Channel, truTV, and USA Network.
This is the full Sling TV Channel List.
Every Sling TV subscriber can record to their 10 hours Cloud DVR, while 3 users can stream at the same time.
Supported platforms
Sling TV supports a wide-range of devices to stream including Amazon Fire TV, Apple TV, Google Chromecast, Roku, iPhone/iPad, Web Browsers, Android Phone/Tablet, Android TV, Xbox, Samsung Smart TV, LG Smart TV, and VIZIO Smart TV. Sling TV is not available to stream on PlayStation and Nintendo.
Event Maps and Directions
Directions:
From US 191, head west on US64 (Lone Mountain Trail)
Turn Left at the traffic light at Ousel Falls Road
Turn Left on Simkins Drive
Spectator paid parking will be on your right.
Parking:
There will be a limited amount of paid spectator parking at the event site, available for $10/vehicle on a first-come, first-served basis.
Spectators may use other public parking available in the Big Sky Town center and surrounding areas. Please comply with all posted parking restrictions and refrain from parking in residential area parking spaces.
Event Grounds Rules & Disclaimers
No outside alcohol
No drones
No Dogs
By entering the event grounds you consent to being filmed and/or photographed.
Skijoring, skiing, snowmobiling, and horseback riding are inherently dangerous sports that could result in injury, which may include, without limitation, serious bodily injury, permanent disability, or death.
For purchase tickets or more information visit: