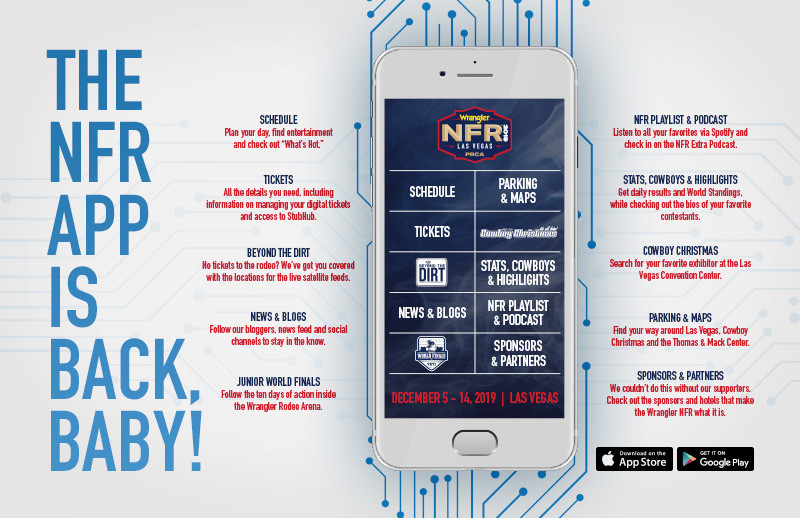 Las Vegas Events announced 10.22.2019 that it has launched the updated mobile application for the Wrangler NFR. Rodeo fans will now be able to fully plan their rodeo experience in Las Vegas, which runs from Dec. 5 – 14 at the Thomas & Mack Center in Las Vegas.
New features in 2019 include enhanced schedule features (including the popular What's Hot category), access to all NFR blogs, news and enhanced parking diagrams and maps. With the NFR Playlist and Podcast links, fans can access the Spotify integration and the NFR Extra Podcast, while the Stats, Cowboys and Highlights link provides daily video features and content.
Wrangler NFR fans, whether in Las Vegas for the rodeo or simply following the action from home, will be able to download the application for free. The NFR App will include the following features:
Schedule – Provides a complete list of performance times, Wrangler NFR 9-5, NFR After Dark, Cowboys Christmas activities, What's Hot and allows fans to add events directly to their smart phone calendar;
Tickets – All the details rodeo fans need, including information on managing your digital tickets and access to StubHub, the Official Fan to Fan Marketplace of the Wrangler NFR;
Beyond the Dirt – No tickets? Find the perfect location to watch Beyond the Dirt, the live satellite feed of the Wrangler NFR;
News & Blogs – Follow our stable of bloggers, sign up for push notifications, connect with fans and friends via social media and stay up to date on the Wrangler NFR;
Junior World Finals – Follow the ten days of action inside the Wrangler Rodeo Arena;
Parking & Maps – Includes parking details and maps for Cowboy Christmas, Thomas & Mack Center, Las Vegas and includes the NFR Express and Cowboy Christmas Express Shuttle Bus schedules;
Cowboy Christmas – Contains info about the official gift show of the Wrangler NFR and a full list of exhibitors and interactive areas, including booth numbers;
Stats, Cowboys & Highlights – Get daily results and World Standings, while checking out the bios of your favorite contestants and daily highlights;
NFR Playlist and Podcast – Listen to all your favorites via Spotify and check in on the NFR Extra Podcast;
Sponsors & Partners – Connect to all of our key sponsors and supporters.
The NFR Experience Mobile Application is free and available on all platforms. Download the iOS or Android app and schedule your NFR Experience.
Sold out for more than 300 consecutive performances, the Wrangler NFR attracts the top 15 contestants in bareback riding, steer wrestling, team roping, saddle bronc riding, tie-down roping, barrel racing, and bull riding. Under the new contract with the Professional Rodeo Cowboys Association that runs through 2024, the purse in 2019 is $10 million. Qualification is based on the 2019 PRCA World Standings.
For more information on the Wrangler NFR, please visit www.NFRexperience.com or through social media at /LasVegasNFR and use #WranglerNFR.