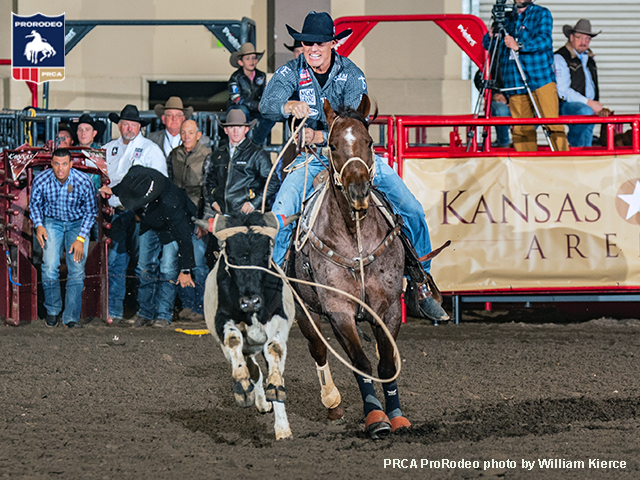 After more than two months without a PRCA-sanctioned rodeo because of the COVID-19 pandemic, ProRodeo cowboys will return to action at Cave Creek (Ariz.) Rodeo Days, May 22-24.
Steer roping also is part of the rodeo and has a star-studded field of 42 cowboys. The contestants will be competing in a three-header, beginning at 9 a.m., May 23.
"This is the longest break I've had ever," said Vin Fisher Jr., a 16-time qualifier for the Clem McSpadden National Finals Steer Roping. "It will have been two-and-a-half months since the M.M. Fisher Jr. Memorial Steer Roping, March 7-8. I'm ready to go run one for money. I'm so glad they are firing off and having it and giving us a place to go."
The Cowboy Channel will air Cave Creek Rodeo Days live at 10:30 p.m. (ET), May 22-24. The rodeo also will be live on the PRCA on Cowboy Channel Plus App, available at cowboychannelplus.com.
Fisher will be riding Sixes, 17, in Cave Creek.
"I just started back to roping last week," he said. "I actually tore my right rotator cuff on March 25, my birthday. Luckily, it didn't need surgery because it wasn't a full tear. I have been doing physical therapy for a month. I also have a ruptured disc in my back. My physical therapist thought he could help (my back), and he told me not to do any riding. I couldn't keep my horses in shape. Sixes stays turned out with the ranch horses and stays in shape. Right now, my back is better than it has been in two years and my shoulder is getting there. I don't think it's going to affect me."
Vin, his brother, J. Tom (a seven-time NFSR qualifier), and their father, Dan (16-time NFSR qualifier), are all in the field at Cave Creek.
"I can't wait to get going," J. Tom said. "I have been practicing every day. I'm more ready to go to a rodeo right now than I would be for the National Finals because we have been practicing a ton here at home (in Andrews, Texas). It's great when we get to compete together as a family, it's a lot of fun. You're rooting for each other."
Tuf Cooper, who has qualified for three consecutive NFSRs, is thrilled to be competing in steer roping and tie-down roping in Cave Creek.
"I'm just so excited to go do what we all love to do, which is rodeo and hang out with each other and travel around, and ultimately get our name called," Cooper said. "I went to a jackpot a few days ago just so I could have a little bit of pressure, and my steer roping went really well. I'm definitely ready."
Chet Herren, a 14-time NFSR qualifier, agreed with Cooper.
"I'm excited to get going," Herren said. "I hope this is the start of things to come (and rodeos keep going)."
Courtesy of ProRodeo.com