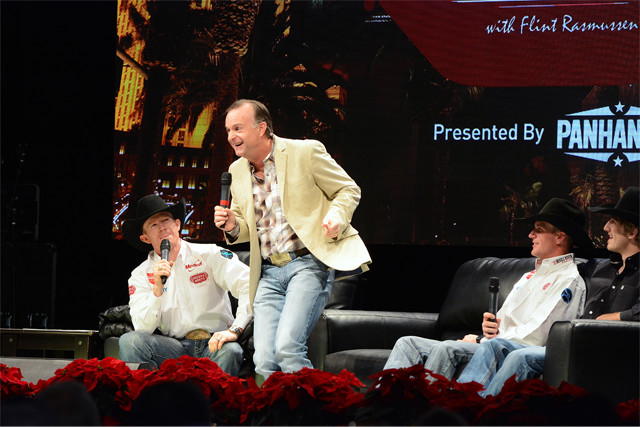 From Dec. 5 – 14 at Cowboy Christmas, Rodeo Live presented by RODEOHOUSTON will bring live talk show style entertainment to rodeo fans. Free to the public, Cowboy Christmas is open 9 a.m. – 5 p.m. (PT) daily at the Las Vegas Convention Center, South Halls and features just under 350 exhibitors and interactive elements for rodeo fans.
Each day, Rodeo Live presented by RODEOHOUSTON will feature the following:
RFD-TV's Western Sports Roundup – starting at 10 a.m.
Cowboys for Conservation Calcutta – starting at 11 a.m.
Outside the Barrel with Flint Rasmussen – starting at noon
Keepin' It Country with host Andy Griggs – starting at 1:15 p.m.
Rasmussen has been a staple at Cowboy Christmas and continues to deliver laughs, entertainment and special guests during the ten days. Also back for a second year is the live-music show "Keepin' It Country," with host Andy Griggs. The new Cowboys for Conservation Calcutta, in partnership with the Rocky Mountain Elk Foundation, will be held daily.
Additional one-time events include the Miss Rodeo America Scholarship Foundation Auction on Saturday, Dec. 7 at 3 p.m. and the Fellowship of Christian Cowboys Public Church Service on Sunday, Dec. 8 at 3:30 p.m.
To add to the overall experience, RMEF's Hunter & Outdoor Christmas Expo will be co-located upstairs in the South Halls from Cowboy Christmas. Over the past 33 years, Cowboy Christmas has attracted more than 4.4 million attendees.
In addition to Rodeo Live presented by RODEOHOUSTON, Cowboy Christmas will include the following main anchor displays and programming elements:
Wrangler Rodeo Arena – The arena will seat more than 1,100 fans and feature the Flag Girl Competition, Exceptional Rodeo presented by NV Energy and, for the fourth consecutive year, the Junior World Finals with championship competitions in bull riding, bareback riding, saddle bronc riding, steer wrestling, girls and boys breakaway, team roping, tie-down roping, pole bending and barrel racing.
Coors Rodeo Saloon – Every great "rodeo" needs a saloon. Located near the east end of Cowboy Christmas, the Saloon features food vendors and video screens with a replay of the prior night's Wrangler NFR performance;
Rodeo Way – This "Old West" setting features eight interactive industry and rodeo exhibits located at the east entrance of Cowboy Christmas;
NFR Central – This area will feature radio remotes, contestant and musician autograph sessions, giveaways and more. Dale Brisby will also be in attendance;
Great Wall of Rodeo presented by Calgary Stampede – This fan favorite features a graphic of all Wrangler NFR contestants and other interactive elements.
Bites and Brews presented by Total Feeds – A series of custom food and beverage carts will be located on the second floor adjacent to the Wrangler Rodeo Arena.
12 Gauge Ranch, Bloomer Trailers, Rockstar Energy, Rocky Mountain Elk Foundation, StubHub, Traeger Wood Fired Grills, Wrangler and YETI serve as Gold Buckle sponsors. Silver and Bronze sponsors include Boot Barn, Browning, B&W Trailer Hitches, Calgary Stampede, Cavender's, Classic Equine, Cloud Touch, Coors, Impact Gel, Justin, Lucas Oil, NV Energy, Nevada State Bank, Panhandle, Pendleton Whisky, Priefert, Purina, Pro Fantasy Rodeo, Ram Rodeo, RFD-TV, RODEOHOUSTON, SmartPak, Star Nursery and Total Feeds, Inc.
Cowboy Christmas brought large crowds to the Las Vegas Convention Center over the ten days in 2018, reaching 232,595.
Sold out for more than 300 consecutive performances, the Wrangler NFR attracts the top 15 contestants in bareback riding, steer wrestling, team roping, saddle bronc riding, tie-down roping, barrel racing, and bull riding. Under the new contract with the Professional Rodeo Cowboys Association that runs through 2024, the purse in 2019 is $10 million. Qualification is based on the 2019 PRCA World Standings.
See more at NFRexperience.Com