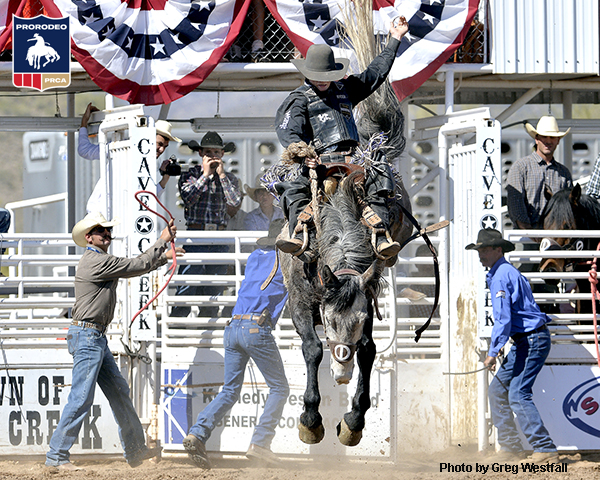 The first ProRodeo competition since the COVID-19 hiatus began two months ago gives extra cause for celebration at the Cave Creek (Ariz.) Rodeo Days.
Fans will not be allowed to watch Cave Creek rodeo in person, but the action will be broadcast live on The Cowboy Channel May 22-24 at 10:30 p.m. (ET) with repeat airings at 1:30 a.m. (ET).
This central-Arizona rodeo may not be the biggest, but it has a history of attracting some of the biggest names in ProRodeo in recent years and helping some qualify for the Wrangler National Finals Rodeo.
Bareback rider Luke Creasy won Cave Creek in 2016 with 84.5 points on Cervi Championship Rodeo's Restless Heart. That year, the Canadian cowboy won the RAM Turquoise Circuit Finals Rodeo. He's also won nearly $500,000 in ProRodeo competition.
Steer wrestler Dirk Tavenner won Cave Creek's steer wrestling in 2017 with a 4.2-second run. Although he hasn't qualified for the NFR yet, 2020 could be his year with him 12th in the PRCA | RAM World Standings.
In 2019, steer wrestler Luke Branquinho won Cave Creek with a 4.4-second run. The California cowboy is a five-time world champion (2004, 2008, 2011-12, 2014) with 14 NFR qualifications (2001-04, 2006-15).
Team ropers Tom Richards and Nick Sarchett won Cave Creek in 2019 with a 4.7-second run. Richards is a two-time NFR qualifier (2014, 2017).
Ryder Wright won Cave Creek's saddle bronc riding in 2016 and 2018, first with an 81.5-point ride on Cervi Championship Rodeo's Night Watch and then with an 80-point ride on Cervi Championship Rodeo's Fire Bomb. Wright won the 2016 PRCA | Resistol Rookie of the Year title and has qualified for every NFR since, adding a world title in 2017.
In 2019, Wright's uncle CoBurn Bradshaw won Cave Creek's saddle bronc riding with an 83-point ride on The Cervi Brothers' Wyatt Earp. Bradshaw has won more than $1 million in ProRodeo competition, thanks in part to four trips to the NFR (2015-18).
Tie-down roper Westyn Hughes won Cave Creek in 2017 with an 8.8-second run. The 2016 tie-down roping rookie of the year nearly made his NFR debut that year, finishing 20th in the world standings. The Texas cowboy is 14th in the world standings, thanks to winning La Fiesta de los Vaqueros in Tucson, Ariz., earlier this season.
Steer roper Chris Glover won Cave Creek in 2019 with 36.4 seconds on three head. The Colorado roper is a three-time qualifier for the Clem McSpadden National Finals Steer Roping (2016, 2018-19) and the 2017 National Circuit Finals Steer Roping champion.
Bull rider Boudreaux Campbell won the 2017 Cave Creek rodeo with an 87-point ride on 4L & Diamond S Rodeo's Generation Wild. That win helped Campbell win the 2017 rookie title, and he's competed at every NFR since.
Fans can expect to see great things unfold in the arena for the 2020 Cave Creek rodeo, possibly even a glimpse at future Wrangler NFR contenders.
Courtesy of ProRodeo.com